UKCES has published its Careers of the Future, setting out a range of jobs that can become great careers for young people thinking about their future at work. We talked to a range of people already involved in those careers, and we will tell their stories on this blog and on Twitter over the next week. Follow us here or at #careersofthefuture for more.
Dylan Valentine, IT business analyst, Fujitsu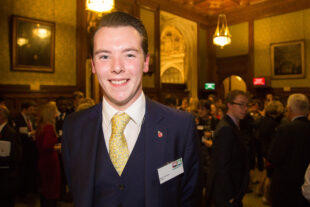 First off, could you introduce yourself and give us your age and job title?
Dylan Valentine, 20 years of age, and I currently work as a Problem Analyst on one of Fujitsu's Strategic Retail Accounts. I joined the organisation in September 2012 as a Bid & Delivery Excellence Apprentice.
How does your job title translate into day to day work?
This role is to analyse the day-to-day operations of the customer at hand, understand the inefficiencies in IT service, contextualise them into problemsp and business actions, and drive continual service improvement. Overall, this allows them to use IT to leverage their own business and therefore obtain a competitive advantage through the service we provide.
Within my previous role, my role was to understand the internal efficiencies and otherwise, applying lessons learnt and continuous improvement to drive organisational and operational change.
What would an average day entail?
Each day varies! However, a typical day will entail the progressing and closure of business problems in collaboration with suppliers, establishing business processes and supporting the organisation through their current peak period. An industry-leading IT supplier has to be flexible to assist the customer in their operations at a moment's notice, and this quite often results in a varied workload.
What are they key skills you need to do your job?
Enthusiasm and diligence to drive organisational change and 'sell the journey'
Proactive nature, to instigate change to introduce efficiencies
The ability to have different (and often difficult) conversations with a variety of people from operational personnel to senior management
Stakeholder management: the ability to grow multiple networks in different organisations, and to harvest good working relationships
What is it the most fascinating aspect of your job?
The holistic business understanding and ability to drive change. Within this role, you have an external and respected view on how an organisation can enhance their business. The business analyst role gives you a thorough business understanding, which is incredibly intriguing, as this is an opportunity usually only provided to senior stakeholders. Furthermore, driving change often means engaging with a range of stakeholders at all levels of the business, which is a unique position to be in.
And the most unusual?
Adopting common-sense! Within the role, you initiate and drive change in areas where you may not have experience in that field; however you do not necessarily need to. Adopting common-sense and thinking of the bigger picture is where businesses generally suffer inefficiencies, and adopting this approach will ensure the business is performing the basics.
What led you to where you are now? Have you always aimed to be in this role?
I never considered the role before I entered into the Fujitsu world; however I couldn't have started on a better role. When I joined Fujitsu (September 2012), I had a very nostalgic view of how a business operated, and being in this position helped me to align my thinking and see the business operate as a whole. Moving into a customer-facing role has assisted me to understand how Fujitsu really delivers a service.
What inspired you to get into this career?
I was first inspired to be a 'businessman' when I was 12 years old, and I watched a show called 'The Apprentice' (you may have heard of it!). I was mesmerised by the passion and enthusiasm of the individuals, and since then I wanted to play a vital part in an organisation. The role of Business Analyst allows you to play a pivotal part in the growth of an organisation.
What qualifications did you get, or realise you needed, to be where you are?
None whatsoever! I had an A Level in Business Studies and an AS-Level in Economics. The main thing is that you need an appetite to succeed and learn, as you can inherit experience in this role which will become the foundations of your future career. Further qualifications can be obtained to get an in-depth understanding of certain areas; however attitude and application is key within this role.
How long did it take to get to where you are now?
Just over two years. I was fortunate enough to join Fujitsu as an Apprentice and taking part in the exciting growth of a central lessons learnt and continuous improvement function from inception. As stated before, the attitude is the vital element, and experience and qualifications are secondary.
What one piece of advice would you have given your younger self?
If something catches your eye, don't ignore it! Within this role, you need to act upon inefficiencies in-the-moment, and it is your role to highlight these issues and suggest potential solutions. Being proactive and diligent is absolutely vital, and if you are to drive continuous improvement, practice what you preach!
What advice would you offer anyone looking to follow a similar career?
This role will accelerate your career. The competencies and networks I have established by being in this field have accelerated my career tremendously, and I have even presented at the House of Commons, been interviewed on BBC Radio 4's  Today programme and had an article published in the Professional Manager magazine. Organisations are starting to recognise the benefits these functions can deliver, therefore the role of Business Analyst is a very exciting place to be.