Welcome to One Minute Mondays - where we give you the low-down on a fact from our research on employment and skills in under 60 seconds. 
The UK is on course to fly up the international rankings for the proportion of the population with a high-level qualification. By 2020 48% of the UK's population is projected to be qualified to a post-secondary school (tertiary) level. The UK is currently 11th in the OECD for high-level skills (up from 13th the previous year), and is set to leap frog Finland, Norway and the USA to reach 7th place by 2020.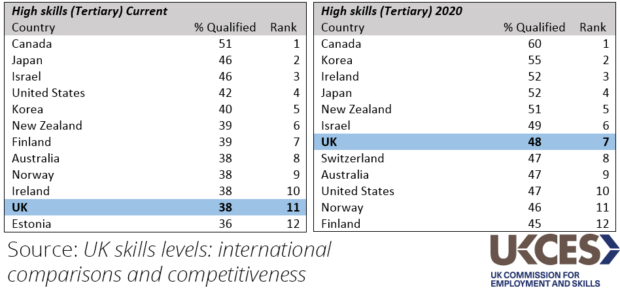 To read more about how UK skill levels compare to those of other countries read our full report UK skills levels: international comparisons and competitiveness.
The previous One Minute Monday post asked what employers looked for when filling vacancies.
Like this fact? Interested in international skills stats? Tweet us @ukces using or leave your comment below. 
You may be interested in other posts on high-level skills: