All change please!
Change.  The word is used so often by politicians and pundits that it's becoming almost a parody of itself.  But think about true change -  abandoning all those routine ways of doing things and trying something completely different.  As an employer, change can be particularly difficult. But I believe that sometimes a failure to change, and make the most of new opportunities and of your staff can result in those actions you're desperately trying to avoid.
As I write, the 2012 Paralympics is taking London by storm.  The power of change is all around us as competitors from around the world push themselves to the limit. This week a mother of a 2-year old without use of one of his arms said that since watching the Paralympics she knew her son would be able to do anything. Attitudes are beginning to change. But it wasn't always like this; it is not long since disabled people were placed in separate institutions, away from the main current of life; and even now an experience of disability brings with it added risks of poverty and isolation.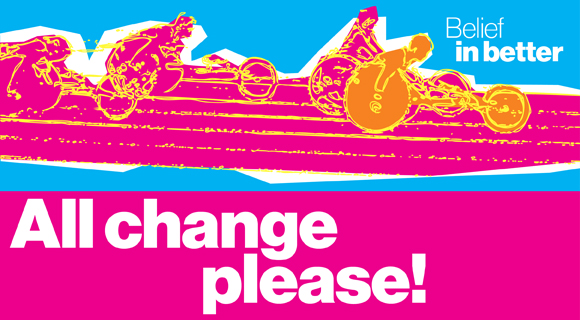 The start of this change dates back to the Second World War. Streams of injured servicemen were flooding through the hospitals with damaged limbs and severe spinal injuries.  For many of them, dealing with the physical and mental traumas was just too much. The reality of living as a disabled person appeared bleak.  Doctor Ludwig Guttman, a leading neurologist and Director of Stoke Mandeville hospital specialising in spinal injuries took a different view.  Challenging the norm of impairments  as a life inhibitor, Guttman viewed it as an enabler. He did this by encouraging his patients to use sport as a form of therapy, and use the fullest potential of the limbs they had remaining. Today this action lives on through the 2012 Paralympics.
In the same period the modern disability movement was born. Disabled people, deciding they had had enough of being excluded, instead set up support delivered by and for disabled people to achieve independent living. The result is a society that is beginning to become more inclusive; and a Paralympic games with tickets sold out and huge TV viewing figures across the world.
So what can employers learn from this?
Belief in better
 There's nothing wrong in doing what you've always done, but you need to ask yourself – is it effective?
For Guttman observing his patients, it wasn't just the physical effects of lost limbs they were dealing with; it was the barriers of other people's attitudes about what was possible.   Something needed to change so that after injury, people  could lead fulfilling lives again.   And it's the same in business. Findings from the UK Commission's Employer Skills Survey show that half of employers know that at least one of their employees has both qualifications and skills more advanced than their current job role.
This is clearly not the best use of skills, and studies have shown that workplaces that utilise all the skills of their workforce have happier workers, higher staff retention rates and good productivity gains. And incidentally it helps not to overlook anyone – your staff living with disability or health conditions may bring additional resilience, empathy, creativity and other relevant qualities for your business.
The need for strong management and leadership skills
 The desire to change is one thing, but putting it into action is another.  As the director of Stoke Mandeville hospital, Guttman led the hospital towards his belief in better and changed the attitude of his staff as well as patients.  And this is where strong management and leadership skills come in.  We all know that a good manager organises tasks, leads by example and encourages positive work behaviours.  But an excellent manager does all this and something more. They listen.
Strong management is a two-way relationship; if you give your staff the opportunity to air their views and then listen to them, they're also more likely to listen to you. And once these conditions are in place, change is something to aspire to not be afraid of.
Change has always been inherent during my career; sometimes it's been welcomed and at other times it was more like a guest outstaying their welcome.  The beginning of the year was a time of huge change for me, as the organisation I previously led merged with others to become Disability Rights UK. Change has also happened through the action of the disability movement: for instance, many employees use British Sign Language interpreters, or voice recognition software, or personal assistants to enable them to work on an equal basis to non-disabled peers.
But before we change what we do, we need to change what we think.  Employers taking responsibility for and owning the skills needs of their workforce is one example of this.  Every Paralympian has a support team behind them - people who invest in them and believe in them.  And at work, we all achieve more if people invest in us and believe in us.   There is so much inspiration to be drawn from the Paralympics that businesses can learn from. But in terms of its origins, let's think of it as inciting a change that brings out the best in people.  And if that's the case, it's all change please!