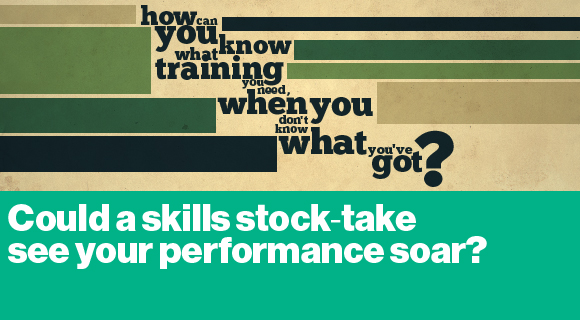 I've always had a culture of supporting progression in my business. It's good for me, it's good for my staff, and it helps my company grow. Believing in the people I work with has set Pyronix apart from the competition.
Supporting progression starts with an understanding of what skills your people need to develop in their roles – or in other words, a training needs analysis. A training needs analysis can come in many forms, and needn't be costly or excessively complicated. After all, it really is just a shopping list of the skills your people need to move your business forward a few paces, and improve your competitive edge.
Whether you have 25 or 2,500 employees, a basic stock take of the skills they have, as well as the skills they need to perform at their best, can pay long-term dividends.
In the same way you take responsibility for analysing your company's stock levels, take responsibility for analysing your company's skill levels. Once you are clear about what you need, and are prepared to invest a little time – you will not just get something useful for your business, you will get something truly remarkable.
Why?
It's a fact that businesses that don't train their people are on average twice as likely to go out of business than those that do. But how can you know what training you need, when you don't know what you've got?
By understanding what training your employees need to keep the company functioning at an optimum level, you'll increase your chances of success.
My own strategy has always been to invest in potential – in people with the right attitude and aptitude, even if they were initially lacking the initial technical skills I needed. At Pyronix, I've actively put time and thought into analysing and developing employees' skills. This strategy has stood me in good stead: I have employees who joined my company straight from school who have gone on to complete degrees or MBAs, or become boardroom members. These employees have been and still are vital in keeping my company ahead of the competition.
However, I know it isn't easy to find time to step back from day-to-day business operations and focus on strategy. So if the idea of a training needs analysis is new to your company, here are a few simple ways to get started.
Set aside time to talk to your people and find out what skills they have, and which areas they could develop more, to be able to do their jobs better. One way of doing this is through regular staff appraisals and one-to-one interviews. This kind of two-way communication keeps employees engaged in company developments.
Questionnaires, either paper-based or online, can clearly identify training needs, and show how each need is actually relevant to business improvement. These can also be referred back to. If you know what skills your business needs, you can include these in questionnaires to evaluate current levels of staff ability. Various websites, such as Survey Monkey.com, or Adobe's FormsCentral, offer free or low cost questionnaire templates.
Professional support can make things easier. Advice on conducting a training needs analysis is available from CIPD, Unionlearn, CMI, and other industry organisations. You can also speak to an Investors in People advisor, or look at their website.
Once you've got your shopping list of skills needs, remember that training doesn't' have to be formal or expensive. If you don't have a budget for external training, why not "train the trainer," and offer it in-house? More experienced members of staff may be able to train up junior employees.
If your analysis shows that your company would benefit from more formal training, most local Further Education colleges or the National Skills Academy for your industry sector, can provide advice.
Whether you are analysing your training needs or not – your competitors might be. So put a training needs analysis on your New Year to-do list, and make 2013 the year you soar above the competition.