Looking to explore a stat about employment and skills in under a minute? You've come to the right place: One Minute Monday takes a fact or statistic from UKCES research and serves it up to you in sixty seconds or less.
It is often said that schools, colleges and universities do not prepare their graduates for the real world of work. However, employers tend to disagree.
Employers who take on education leavers into their first job see their recruits, on the whole, as well prepared for employment. The level of perceived preparedness increases with the level of education undertaken, with 81% of university graduates deemed well prepared or very well prepared by employers, compared to 53% of 16 year old school leavers. Interestingly, 17/18 year-old college and FE leavers are deemed more prepared than their school leaver peers.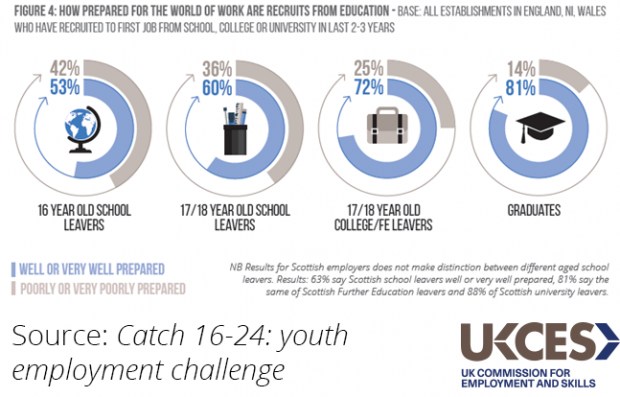 To read about the challenges facing young people getting onto the job market see our report Catch 16-24. For more on how employers judge preparedness differently across the UK see our Employer Perspectives Survey 2014.
If you have thoughts on preparing young people for work, or have an area you'd like to see covered in One Minute Mondays tweet us @ukces or leave a comment below. 
Related content: