One Minute Monday - your weekly stat shot to get your mind ticking in less than a minute. We outline a key statistic about the world of employment and training in sixty seconds.
Our definition of a "skills gap" is where current employees lack some of the skills needed to be fully proficient in their job.
In our most recent UK Employer Skills Survey (2013) more employers reported taking action to tackle skill gaps amongst their employees than two years previously. A lot of our work is focused on identifying and dealing with skill gaps in the workforce, not only for employers' benefit, but also to give employees greater scope for development and progression. The news that 86% of employers (up from 76% in 2011) are taking action to close skill gaps is therefore something we welcome.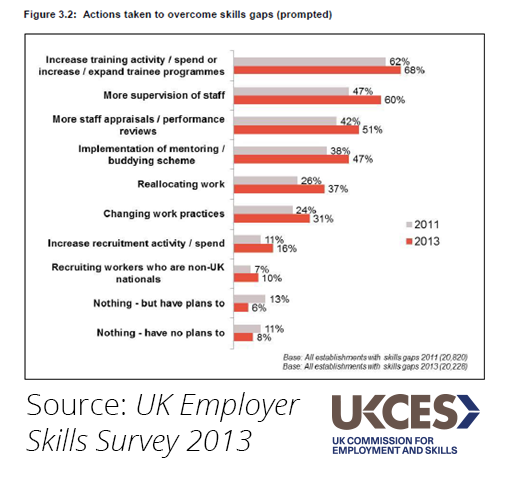 We are very excited to see whether this trend continues when we report the results from this summer's UK Employer Skills Survey. Our number-crunchers are poring over the data right now, and the results will be published in January 2016. If you would like to know what employers told us their most common skill gaps were in 2013, or for detailed information on a range of training and skills topics, have a look at our reports from the UK Employer Skills Survey 2013.
Have thoughts on filling skill gaps? Want to know more? Tweet us @ukces on #oneminutemonday or leave a comment below.
More on skills gaps, skills shortages, and our surveys and data: