The Olympic opening ceremony began with what arguably shaped the UK's success for the next 100 years-the industrial revolution.
Fast forward to today and with the success of the London games we have achieved a global confidence unlike anything experienced before the financial crisis.
The focus now is on Olympic legacy. How can we continue to apply this success and compete with the biggest players across the globe?
Manufacturing, one of the UK's historic strengths, is once again stimulating our economy. Whereas the UK once thrived thanks to its iron making today advanced manufacturing- that utilises the most highly skilled workers and high value items-is the key.
Approximately 59% of the 860,000 people in the current technical workforce covered by industry body Semta's footprint are skilled.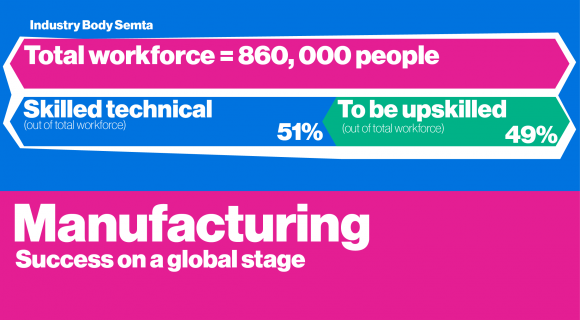 This leaves 49% to be upskilled to ensure they are qualified to world-class levels. Semta have announced they are well on the way to doing this, as they are doubling the number of advanced and higher level Apprenticeships by 2016 through their Apprentice Ambition programme.
The UK Commission has co-invested in Semta's Higher Apprenticeship in Advanced Manufacturing Engineering through the Employer Investment fund alongside major employers with 400 apprentices already recruited by Jaguar Land Rover, BAE systems, Siemens and MBDA.
Bill Twigg, Apprenticeship Director at Semta, said:
"The demand for higher level skills is increasing as the UK competes in high value markets such as advanced manufacturing, bio technology and emerging and green technologies.  And as traditional industries become leaner, many jobs require multi-skilled technicians or demand very specific skills sets.

"Before we launched the Apprenticeship Ambition, the combination of apprenticeship starts and achievement rates was producing less than half what was needed and was doing nothing to address skills gaps within the existing workforce. We are determined to achieve our ambition because we know that UK manufacturing and engineering needs the right technical skills to compete globally."
This definitely seems to be working, as there are already examples of businesses choosing to leave China behind and bring their manufacturing back to the UK. A far contrast to the widely held misconception that the UK doesn't make things any more.
The UK Commission has also supported higher level skills in the sector, including the first ever scheme to offer flexible Master's level qualifications modules to maximise the growth opportunities available.
The Advanced Skills Accreditation Scheme (ASAS) was devised by Semta to ensure provision can meet business need, with higher level skills addressed as a barrier.
The module content has been driven by employers to ensure it will meet real business need. An employer-led steering group is at the heart of the programme's governance, chaired by Jaguar Land Rover.
Jose Lopes, Head of Technical Excellence at JLR, said:
"This programme has allowed Jaguar land Rover to have a transformational impact on our skills capability across engineering.

"We firmly believe that this transformational impact can be seen cross sectorally and across larger and smaller enterprises across the UK."
The UK Commission has co-invested over £1.1 million in the scheme through the Growth and Innovation Fund. Over the next two years the project will create a 7:1 return on investment with employers investing £7,500,000 and meeting the training costs.
With such large scale projects taking place this could this be the most promising time for manufacturing in recent history, and a catalyst for modern growth in an area we have traditionally thrived in?
If you have an opinion on this story please leave a comment or if you would like to find out more about the projects we co-invest in please visit the investment portfolio pages on our website or view our investment journal.