UKCES has published its Careers of the Future, setting out a range of jobs that can become great careers for young people thinking about their future at work. We talked to a range of people already involved in those careers, and we will tell their stories on this blog and on Twitter over the next week. Follow us here or at #careersofthefuture for more.
Charlotte Roche, software engineer, Capgemini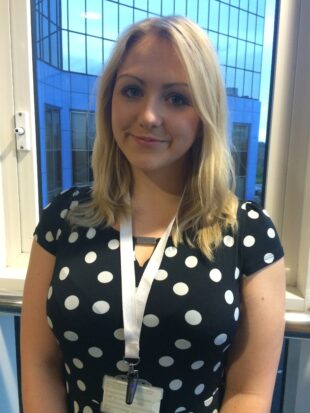 First off, could you introduce yourself and give us your age and job title?
I'm Charlotte Roche, I'm 19 and I'm a software engineer.
As a software engineer at Capgemini, what would an average day entail? 
It depends which project you're on, so there could be a lot of coding and development or it could be looking at a lot of data and fixing problems. My average day consists of coming into work and trying to solve issues with things that are technical.
So there's quite a varied range of things? 
Yes, very varied.
How long have you been with Capgemini? 
Nearly a year and a half now.
And you're on an Apprenticeship, is that right? 
Yes, I'm a Higher Apprentice.
How is that, with combining the classroom and work-based learning?
Very good. It's very challenging, which keeps it really interesting. The benefits of it are that I can do the training and come to work and actually use it. It's not like when you are at school and you wonder where these things will apply in life. You're doing things that are useful and you think, oh! that answers that question.
I have more training coming up that helps me have a step up. It's a lot easier to get training when you're on an apprenticeship programme because people accept that you need a little bit of time to grasp things.
What would you say are the key skills that you need to do your job?
You definitely need to be a good team player and work with other people, and be able to explain your problems. To be capable of knowing where you've gone wrong, to ask for help. Also, being innovative and being able to respond - seeing that something needs to be done and going and doing it in your own time, spending some time out of your day to get a grasp of something. That determination to want to get ahead and want to learn.
What do you think is the most interesting bit of your job?
The people, definitely. I work with a lot of different type of people. When I started I was 18 and I'd just left school. Here you get to meet people with a great sense of humour and in all sorts of environments. Getting that wider network is great.
And the most unusual bit? 
The problems. I've been on two projects now and I feel like I know everybody's secrets. That was the most unusual thing. Actually being in a large team where you're respected alongside people who have been here for 20 years.
So what inspired you to get into this career?
My parents were very technical. My dad is a helicopter pilot and my mum works in IT as well. I was going to go to university to study maths down in London. I met Becky [Plant, Head of Graduate & Apprentice Programmes  Application Services, Capgemini], who came into my school and gave an overview of what this offered me versus the university track. I'd done my whole A-level, I'd finished it a year early, so I could leave with four A-levels. I was really keen on IT, and I thought, I could do this. I wasn't sure what I wanted to do after uni, hadn't settled on one thing, and now I've ended up doing this and really enjoying it.
What advice would you give to your younger self? 
I think you grow up a lot when you go to work, and you realise that how you should behave versus how you behave at school is very different. How you react to situations and criticism, and all that sort of stuff. I think if I was to give myself any advice it would be to be a bit calmer.
For anyone looking to follow you and make a similar career for themselves, any advice for someone like that?
Make sure it's something they are ready to do, because it is a big commitment. It is a great commitment, but it's not an easy road. I get to enjoy nights out in a different sort of way because I'm working - I can appreciate them that bit more.
How do you think your role might change in the future?
The direction I want to go is more project managerial than technical person. The best part of this job is that you get to experience all the different angles of being in IT, so you could have a consultancy role, a developer role, you can work out where you want to be in five years time before you have to make any commitments to it. So I know there are people who really really want to go down the tech-y road, and there's different programming languages, but I also know people who have a similar outlook to me, looking to go down the project manager route.