Looking for a thought-provoking stat about employment and skills, but only got a minute? You've come to the right place!
Skill under-utilisation occurs when employees have skills above and beyond those their job requires.
The opposite of skills gaps, which occur when employees lack the skills required for their current jobs, skill under-utilisation still represents both challenge and opportunity for the economy. Why? Because if this potential of current workers remains untapped, then we lose the chance to increase UK productivity.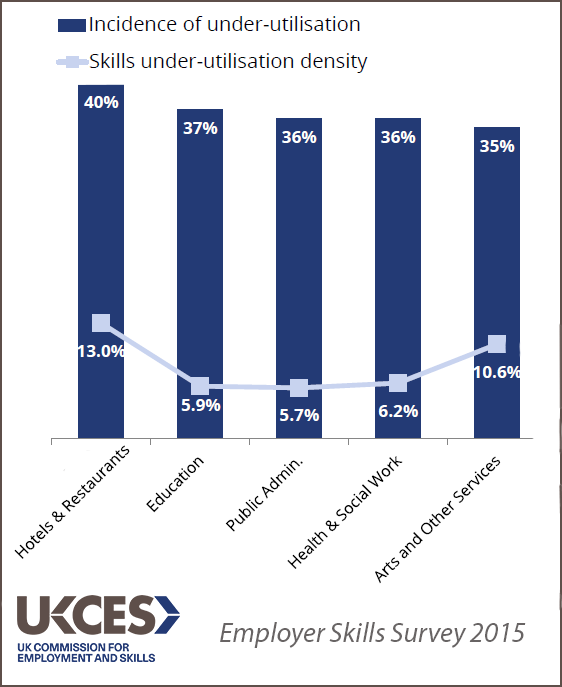 The worst affected sector for skills under-utilisation is the Hotel and Restaurant sector, according to our Employer Skills Survey.
This is an issue affecting a significant number of employers - 40% say they have at least one employee who is not able to fully utilise their skills.  It is an issue for the workers too. The figures show that 1 in 8 workers (13%) in this industry possess skills and qualifications above the requirements of their job.
Interestingly Education is the field reporting the next highest incidence of under-utilisation, making it a problem that over a third (37%) of educational establishments are dealing with.  However, the good news is that the density of skills under-utilisation is much lower, affecting just only 1 in 16 people (6%) employed in this sector .
Find out more about skills under-utilisation or learn about other labour market trends we discovered in our Employer Skills Survey 2015.
What skills do you think are commonly under-used in your workplace? How do you think jobs should be designed to make best use of employees' potential? Tweet us @ukces or comment below.
More One Minute Mondays: